Over 1 in 3 Finding it Difficult to Pay for Energy Bills in 2023
A person's home is their castle that can be any temperature they'd like it to be. While the outside air may be hot or cold, you can create a climate controlled paradise that suits your every preference. But it often comes at a steeper price than you might expect. We surveyed 900 Americans nationwide on their preferred home temperature, and how they're cutting energy costs in 2023.
Increasing Energy Bills and Utility Costs in 2023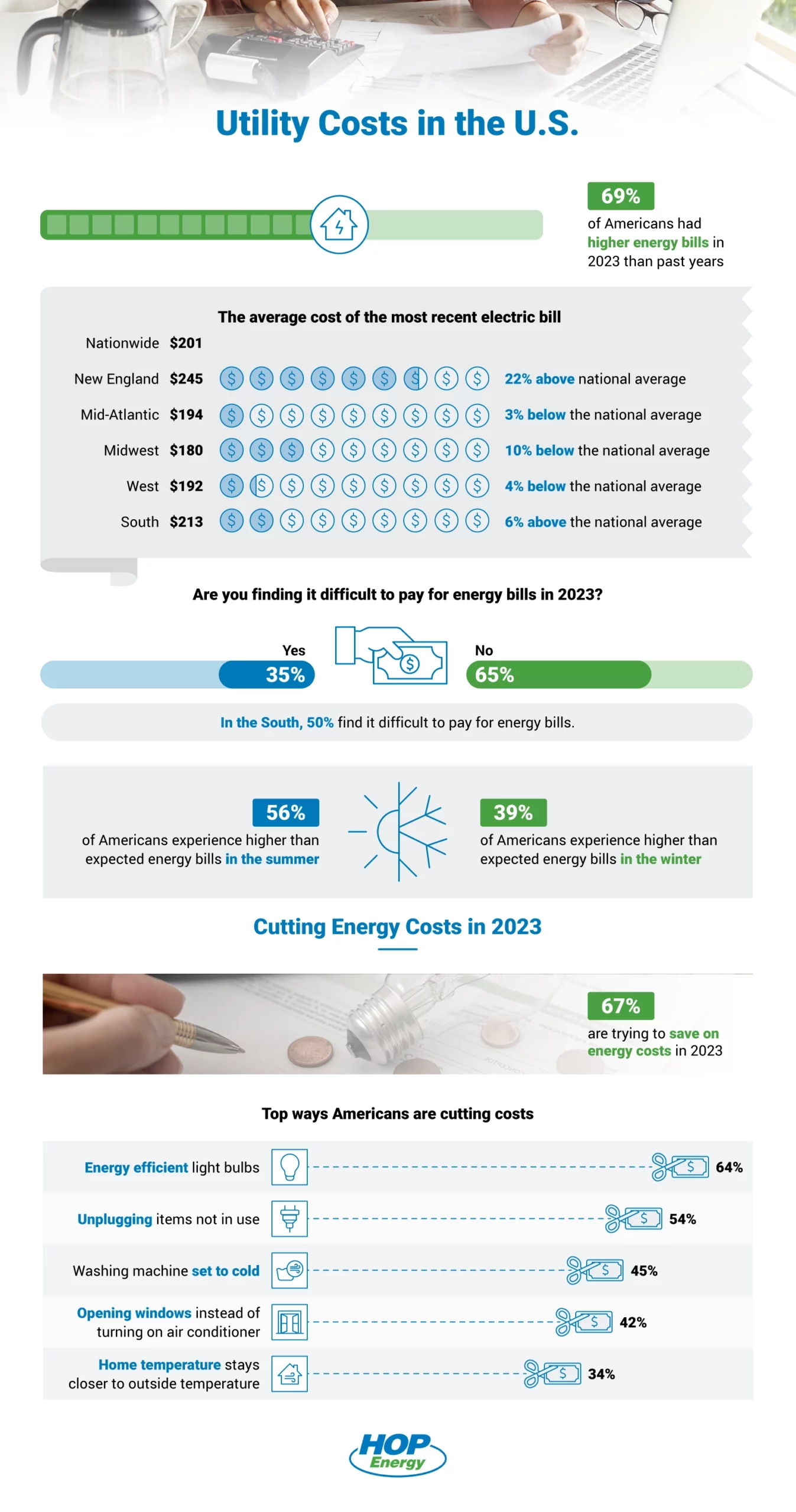 According to a survey conducted by HOP Energy, the cost of living crisis leaves no stone unturned: 69% of Americans report higher energy bills in 2023 than in past years. Our survey found the national average of the most recent electric bill was $201 a month, whereas New England boasted a $245 bill – 22% above national average! For lower electric bills, move to the Midwest, where bills were10% below the national average at $180.


Nationwide, over 1 in 3 find it difficult to pay for energy bills in 2023. In the South, the number of people struggling to pay their energy bills in 2023 increases to 50% of those surveyed; not surprising given the record breaking heat and the demand on air conditioners and HVAC systems. Air conditioning is a wild card nationally: over half of Americans experience higher energy bills in the summer than they might expect, compared to 39% who underestimate their bills in the winter.


Nothing hurts more than a surprise expense, so it's not shocking that over 2 in 3 Americans are trying to save on energy costs in 2023. The most popular cost-cutting technique is using energy efficient light bulbs, followed by unplugging items not in use (phantom energy is real), and setting the washing machine to cold. Other top methods include trying window fans in lieu of the AC and aligning the home temperature more closely to the outside air. 
Winter in the Home: Temperature Preferences and Winterizing

One of the chief heralds of season change is the end of Daylight Saving Time, set in the spring and fall of every year. But Americans don't like it, the survey revealed 71% would eliminate the time change if they could.
Americans keep their
homes cozy
during the winter–the national average home temperature during the cold months is 69 degrees. The Western U.S. keeps it the lowest, at 67.4 degrees, whereas the South maintains a balmy 70.1 degrees.
Many say they keep their homes at a different temperature to avoid higher costs; 56% said they keep their home temperatures lower than their preferred temperature in winter to save money. New England boasts the largest degree difference between desired temperature and actual temperature at 2 degrees. The South, meanwhile, is only a degree off from its temperature preference. One way to cope with this difference is bundling up –nearly 2 in 3 nationwide will layer with warm clothing rather than turn up the heat.
While nearly half of American homes are heated with a furnace, other top heating methods include boilers, heat pumps, and baseboard heat. It's not all a vision of coziness, however: over 1 in 4 engage in a thermostat fight with others in their household over the temperature.
Many in colder climates winterize their home each year; nationwide, 28% plan on doing so. It's not a small undertaking: costs can range from $181 in the Midwest to $605 in New England! For many, this involves inspecting the heating system, placing plastic on windows, putting in door sweeps, cleaning the gutters, installing weather stripping, and reversing ceiling fans.
Summer in the Home: Temperature Preferences and Keeping Cool

We all know the heat of summer 2023 was one for the books, with many states incurring record heat waves. The average summer home temperature nationally is 72.4 degrees. While New England prefers a crisp 70.6 degrees–the lowest out of all regions–the Mid-Atlantic goes to the other extreme of keeping home temperatures at 75 degrees. This reflects a7.1 degree difference between the Mid-Atlantic's preferred and actual home temperatures.
The survey found that every region kept their homes warmer than what they might prefer in the summer of 2023. More than half, 53% of Americans, intentionally said they kept their home temperature higher to save money on those pesky bills.
Nationwide, 74% of Americans have central
air conditioning
, and about 1 in 5 have window units. Only 6% have no air conditioning at all. May and June are the two chief months folks first turn on their air conditioning.
The heat certainly took its toll: 38% ran their AC more this year than years prior, and 43% found it difficult to keep their homes cool. The nation's ideal temperature is a lovely temperate 71.9 degrees, while the West keeps it balmy at 74.5 and New England enjoys a brisk 68.6 degrees. All of these are certainly a far cry from summer 2023's record heat!
These survey findings offer valuable insights for homeowners looking to make informed decisions about their energy usage. By understanding how different regions and households adjust their home temperatures during the summer to save on energy costs, readers can gain practical tips and strategies to keep their homes comfortable without breaking the bank. Whether it's adjusting the thermostat, optimizing their cooling systems, or implementing energy-efficient practices, with every season change it's important to ensure your heating and cooling systems are working at
peak efficiency
to cut costs. Make sure you
schedule
your oil and propane deliveries to avoid finding yourself unexpectedly cold this winter!
In August 2023 we surveyed 900 Americans nationwide on their preferences around home temperature in summer and winter as well as what steps they take to cut costs. Respondents ranged from 18-79 with an average age of 43. 50% were men, 48% were women, and 2% were non-binary or would rather not say. 56% identified their living area as suburban, 26% urban, and 18% rural.
When using this data and research, please attribute by linking to this study and citing HOP Energy.